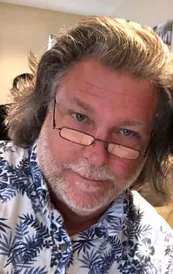 Raymond Cameron, M.A., LMFT ( MFC 38236 )

Raymond is a Licensed Marriage & Family Therapist who has been in practice in Temecula since 2001. Raymond has been helping Teens, Individuals, and Families to achieve their fullest potential by over coming life struggles such as depression, anxiety, panic attacks, social anxiety, alcohol & drug use, self harm, and intimate partner violence & child abuse.
Raymond has worked for various non-profit agencies, Child Protective Services, and Departments of Mental Health in both San Diego and Riverside Counties. Raymond currently is an Adjunct Faculty member of the University of San Diego Marriage & Family Therapy program as well as a Trainer for the Academy for Professional Excellence through the San Diego State University School of Social Work.
Raymond is an interactive, Bowen Family Systems therapist. His therapeutic approach is to provide support and practical feedback to help clients effectively address personal life challenges. He integrates complementary methodologies and techniques to offer a highly personalized approach tailored to each client. With compassion and understanding, Raymond works with each individual to help them build on their strengths and attain the personal growth they are committed to accomplishing.
Raymond is an Approved Supervisor by the American Association for Marriage & Family Therapy and a Certified Clinical Supervisor by the California Association of Marriage & Family Therapists , and he has been providing clinical supervision to MFT & LPC Practicum Students / Trainees & Associates for various clinical settings.

Education:

Master of Arts in Marriage and Family Therapy University of San Diego (Accredited by the American Association for Marriage and Family Therapy)
Bachelor of Arts in Philosophy , Cum Laude University of California at San Diego
License, Certifications & Awards:
American Association for Marriage & Family Therapy, Approved Supervisor 2019
California Association of Marriage & Family Therapists, Certified Clinical Supervisor 2018
California Association of Marriage & Family Therapists, Outstanding Chapter Leader 2012
Licensed Marriage and Family Therapist (LMFT), State of California License Number: MFC 38236
Additional Training

Clinical Supervisor Training ( 18 hours didactic training & 12 hours of Supervision Consultation ) , California Association of Marriage and Family Therapists
Clinical Supervisor Training

(40 hours didactic training, and 36 hours of Supervision Consultation

)

, American Association for Marriage and Family Therapy &

Alliant University

Problem Gambling Training

(30 hours),

California Problem Gambling Treatment Services Program, California office of Problem Gambling & UCLA Gambling Studies Program
Intimate Partner Violence

:

Raymond has over 175 hours of training and continuing education regarding working with perpetrators, vicitms, and families expereincing Intimate Partner Violence
Child Welfare Services: Raymond received over a 130 hours of training through San Diego County Health & Human Services as well as the Public Child Welfare Training Academy as a Child Protective Services Social Worker
Professional Activities
Subject Matter Expert: State of California, Board of Behavioral Science, 1625 North Market Street, Suite S-200, Sacramento CA 95834
Adjunct Faculty: University of San Diego, School of Education, Graduate Marriage & Family Therapy Program
Adjunct Training Faculty: Academy for Professional Excellence / San Diego State University Foundation
Adjunct Faculty:

Brandman University School, School of Arts and Sciences, Graduate Psychology –MFT Emphasis Program
Professional Memberships